Top 5 Wednesday is a Booktube group which makes book related top five lists. I'm not very regular with my Youtube videos so I'll post them here instead when I can.
For more info on the group looks here on the Goodreads page:
https://www.goodreads.com/group/show/118368-top-5-wednesday
This week is 'Favorite F/F Couples'. I should feel bad since I could only think of one book based couple to go on the list and they didn't even make it in the end… oh well, I'll have to read other's Top 5s to improve my knowledge:
Honrable mentions
Cosima/Delphine  from Orphan Black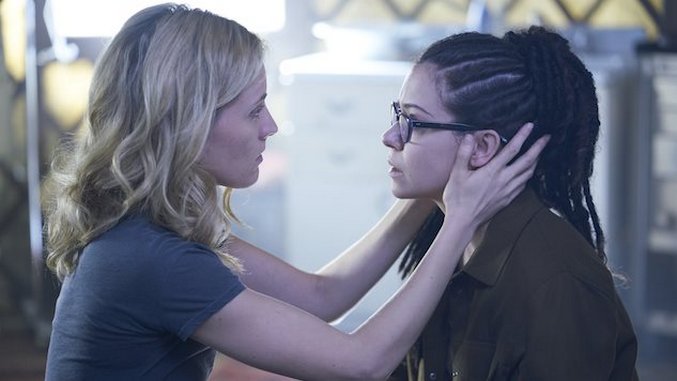 Lexa / Clarke from The 100
5) Nora / Mary-Louise from The Vampire Diaries:
Don't know what it is about them but I can't help admiring them and their relationship. The only reason they are at 5 is because they weren't main characters in their show
4) Bo / Lauren from Lost Girl:
These two just complement each other so well.
3) Willow / Tara from Buffy the Vampire Slayer:
I needed to have Buffy somewhere on these lists and these two were the first gay couple I'd ever looked up to.
2) Nomi/ Amanita from Sense8:
These two are my relationship goal… well so is number one but they are a close second.
1) Jenny/ Madame Vastra from Doctor Who :
I love these two and they really need a spin off with Strax.
Links:
Sense8:-
https://en.wikipedia.org/wiki/Sense8
Lost Girl:-
https://en.wikipedia.org/wiki/Lost_Girl
The Vampire Diaries:–
https://en.wikipedia.org/wiki/The_Vampire_Diaries
Doctor Who :-
http://www.imdb.com/title/tt0944947/
Buffy the Vampire Slayer:-
http://www.imdb.com/title/tt2632424/?ref_=tt_rec_tt