Top 5 Wednesday is a Booktube group which makes book related top five lists. I'm not very regular with my Youtube videos so I'll post them here instead when I can.
For more info on the group looks here on the Goodreads page:
https://www.goodreads.com/group/show/118368-top-5-wednesday
This week is 'Favorite Creepy Settings '. Horror isn't my go to genre so I'm pushing the creepy setting idea here:
5) The Duchess of Malfi by John Webster:
I may have been struggling to find a fifth book.
I haven't read this in years but I saw it on my Read books on Goodreads and thought why not.
There are definitely creepy elements – poisoning, hands chopped off, murder …. when it was originally performed they may have even got people from the local asylum to come on stage as well
4) There's Someone Inside Your House by Stephanie Perkins:
Have to admit, I may have only found it a bit creepy
and that was only because I was home alone at night, in a very creaky house.
Anyway, it's a about a girl who is the target of a serial killer that has been killing students from her high school. She has to find out what links her and the other victims, while wondering if it's to do with her past.
It has a serial killer, secrets and…. actually isn't that scary but I kind of liked it.
3) Demon Road trilogy by Derek Landy:
A girl finding out she's a demon and has to travel America to stop her parents and their friends from eating her. Add to that the serial killers, vampires and demons she meets on the way…. I think it might be creepy.
This is actually a pretty good series that reminds me a lot of Supernatural. It has some really creepy descriptions like the witch in the first book or the demon pet in the other two.
I might read it again to get me in the Halloween mood.
2) Vacui Magia: Stories by L. S. Johnson:
A collection of stories based on Greek mythology.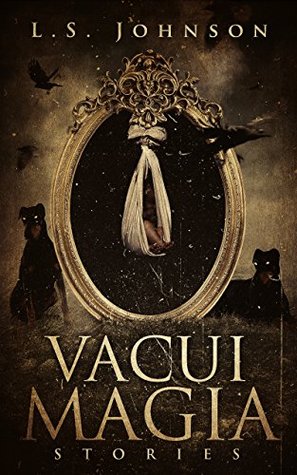 I don't know what it was about them but there was just a creepy feel to them. Of something not quite right, but in a good way.
1) Black Fairy Tale by Otsuichi:
I found this beyond creepy. I don't know how to describe it but it all the horrific things that happened felt normal…. not good, like you're rooting for the person doing them but … talks about them almost ambiviountly? I don't know.
It's sort of two connected…ish stories about someone getting a new eye, which gives them glimpses of the owner of the eye's life, anything else I say would be spoilers.
Links:
The Duchess of Malfi by John Webster:-
https://www.goodreads.com/book/show/1184672.The_Duchess_of_Malfi
There's Someone Inside Your House by Stephanie Perkins:-
https://www.goodreads.com/book/show/35896621-there-s-someone-inside-your-house
Demon Road trilogy by Derek Landy:–
https://www.goodreads.com/book/show/26791238-desolation
Vacui Magia: Stories by L. S. Johnson:-
https://www.goodreads.com/book/show/29408844-vacui-magia
Black Fairy Tale by Otsuichi:-
https://www.goodreads.com/book/show/18690091-black-fairy-tale