Top 5 Wednesday is a Booktube group which makes book related top five lists. I'm not very regular with my Youtube videos so I'll post them here instead when I can.
For more info on the group looks here on the Goodreads page:
https://www.goodreads.com/group/show/118368-top-5-wednesday
This week is 'Fandoms You Are No Longer In.' TBH I still love most of the fandoms I loved when I was younger, so this is more series I used to really like but don't really care about now:
5) Fearless by Francine Pascal:
I completely forgot about this until I spied it in the 'Readers Also Enjoye
d' bit for number 2. I remember searching for these books everywhere – none of the libraries or book shops had more than two of them- I think I even still have one of them in my room still.
4) Merry Gentry by Laurell K. Hamilton:
Ok I was never as into this as Anita Bl
ake but I still really liked it. I used to really like come of the Buffy crossover fanfiction of it.
3) 1-800-Where-R-You by Meg Cabot:
Used to really like this series. I even watched a bit of the TV series that was loosely based off it.
2) Mediator by Meg Cabot: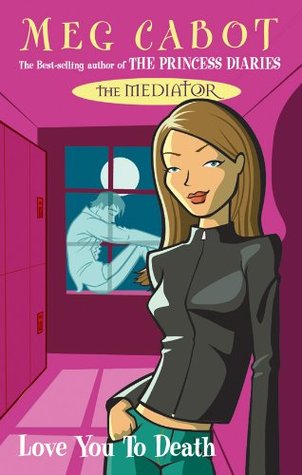 Yes another one from Cabot. I remember loving this series in high school but now I'm struggling to remember some of the characters' names. Though I heard another book was made recently and I'm kind of curious what it's like, for nostalgia.
1) Charmed:
I loved, loved this series, right up until
a few years after it finished, I even wrote fanfiction about it … Buffy crossover but still… However I've seen the odd repeat on TV and I was just blasé about it. Though I still don't want them to make a remake of it, a continuation yes but not a remake.
Links:
Fearless by Francine Pascal:-
https://www.goodreads.com/series/56444-fearless
Merry Gentry by Laurell K. Hamilton:–
https://www.goodreads.com/series/40414-merry-gentry
Charmed:–
https://en.wikipedia.org/wiki/Charmed
1-800-Where-R-You by Meg Cabot:-
https://www.goodreads.com/series/40569-1-800-where-r-you
Mediator by Meg Cabot:-
https://www.goodreads.com/series/41667-the-mediator