Top 5 Wednesday: Books That Feature Time Travel
Top 5 Wednesday is a Booktube group which makes book related top five lists. I'm not very regular with my Youtube videos so I'll post them here instead when I can.
For more info on the group looks here on the Goodreads page:
https://www.goodreads.com/group/show/118368-top-5-wednesday
This week is 'Books That Feature Time Travel'. I don't read a lot of time travel books so this meant me scouring my Goodreads read page. The first thing that came to mind was some book I read in High school, not even sure I read it all – The Sterkarm Kiss by Susan Price. It's not on the list because I'm not sure I finished it and other than the first chapter or so I'm not sure what happened in it. It actually took me half an hour to find out what it was even called. Anyway, here we go:
5) Monstrous Little Voices by too many authors to name (5):
This is technically a bit of a stretch since I don't think there is actual time travel but there is scene where the characters have the possibility to do so. Review.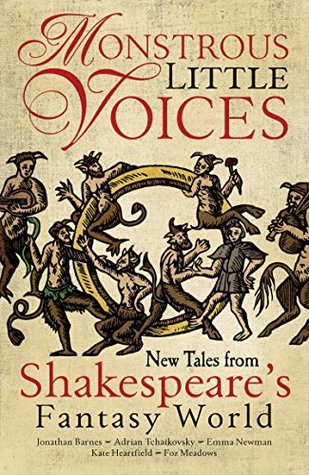 4) Dancing in the Athenian Rain by Katie Hamstead:
This is one of the few books I've read where the main plot revolves around time travel. A teenage girl is sent back to Ancient Greece. Much like The Sterkarm Kiss the main character is a girl who thinks she's frumpy and that very attractive, so that only a man from the past finds her attractive. Also time travel is used for profit in both. I actually don't like this book that much but I was stretched for books. Review.
3) Torchwood: Exodus Code by Carole E. & John Barrowman:
This is also a bit of a stretch. I don't think time travel actually happens but it's referenced or they talk about an event which I know involved time travel since I've watched Torchwood and Doctor Who.
2) Doctor Who: The Stone Rose by Jacqueline Rayner:
Very in keeping with the last two since it's in the Doctor Who universe and it involves travel to Ancient times – Rome instead of Greece. This is actually my favourite Doctor Who book.
1) Harry Potter and the Prisoner of Azkaban by J. K. Rowling:
Funny feeling this will be on a couple of people's list but oh well. This is definitely my favourite book to involve time travel. Absolutely love the series but I'm kind of glad they didn't use time travel anywhere else.
Goodreads Links:
The Sterkarm Kiss by Susan Price:-
https://www.goodreads.com/book/show/1404652.The_Sterkarm_Kiss
Monstrous Little Voices :-
https://www.goodreads.com/book/show/28271040-monstrous-little-voices
Dancing in the Athenian Rain by Katie Hamstead:-
https://www.goodreads.com/book/show/24980867-dancing-in-the-athenian-rain
Torchwood: Exodus Code by Carole E. & John Barrowman:-
https://www.goodreads.com/book/show/17612898-torchwood
Doctor Who: The Stone Rose by Jacqueline Rayner:-
https://www.goodreads.com/book/show/153019.Doctor_Who
Harry Potter and the Prisoner of Azkaban by J. K. Rowling:-
https://www.goodreads.com/book/show/464164.Harry_Potter_and_the_Prisoner_of_Azkaban