Top 5 Wednesday: Disappointing Eye Candy (books that looked beautiful, but were awful)
Top 5 Wednesday is a Booktube group which makes book related top five lists. I'm not very regular with my Youtube videos so I'll post them here instead when I can.
For more info on the group looks here on the Goodreads page:
https://www.goodreads.com/group/show/118368-top-5-wednesday
This week was 'Disappointing Eye Candy (books that looked beautiful, but were awful)'. So here:
5) Demon Princess by Kassandra Lynn:
I sort of liked the cover for this. A bit of a Gothic look, which I like, but I'm not a fan of this book. The whole thing just made me feel really uncomfortable. The idea was good and really drew me in but I couldn't get over the how I felt. Full review here.
4) Captivate by Carrie Jones:
I'm a magpie. I like shiny things and there's gold on here, of course I was going to like the cover. This is the second book of the Need series and while I prefer the cover I could not get into this book. I like faeries and werewolves, or whatever animal they are, but I could not get over the characters. I found them so hypocritical that I wanted the antagonist to win. It was written ok but it is just not for me
3) Black Five by J. Lynn Bailey:
It looks so pretty and magical, what can I say? I couldn't get past the first two chapters. Not a fan of present tense and I felt that too many diegetic words were thrown together too quickly so I had no idea what they meant and kind of blurred into each other.
2) Hush Shush by Becca Fitzpatrick:
I established I'm a magpie, and the dust cover is shiny sliver, and it's hardback, I don't have many hardback books. I know this is a popular book but I can not get into it. I'm curious what happens to the characters but not enough to read the next book, mainly because I couldn't relate or even visualise the characters at all.
1) The Bone Season by Samantha Shannon:
I know this is another popular book and it really is a beautiful cover but it is not for me. I found it really boring and slow and it was just a struggle to read. I actually still haven't finished it. Any one who has, does the pace quicken up at all?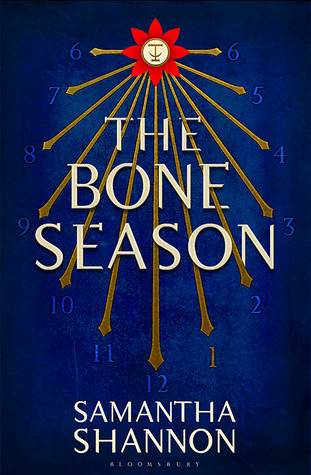 Goodreads links:
Demon Princess by Kassandra Lynn:-
https://www.goodreads.com/book/show/28261850-demon-princess
Captivate by Carrie Jones:-
https://www.goodreads.com/book/show/6600137-captivate
Black Five by J. Lynn Bailey:-
https://www.goodreads.com/book/show/25768973-black-five
Hush Shush by Becca Fitzpatrick:-
https://www.goodreads.com/book/show/6693472-hush-hush
The Bone Season by Samantha Shannon:-
https://www.goodreads.com/book/show/17199504-the-bone-season